History
Castlemaine & District Hospital (1853)
The Castlemaine District Hospital opened its doors on 24 May 1853, less than two years after the discovery of gold at Mt Alexander in Central Victoria. The hospital provided essential medical and nursing care. It was located in Gingell Street, Castlemaine.
In 1939 the hospital was relocated to new buildings in Halford Street. The original Gingell Street hospital building was demolished but the residence of the Chief Surgeon remains as a private house.
Castlemaine Benevolent Asylum (1860)
Separately and after extensive fundraising, the Castlemaine Benevolent Asylum was established in Cornish Street on 4 July 1860 following a severe winter. The Asylum gave refuge to those in need of food, shelter and clothing. It changed focus to the care of the frail, aged and disabled following the turn of the century and was later renamed 'Alexander'.
Mount Alexander Hostels (1959)
The Mount Alexander Hostels, previously the Castlemaine Benevolent Asylum, commenced operation on the site of 'Alexander' in Cornish Street between 1959 and 1962. The hostel provided alternative accommodation for the elderly and frail.
Mount Alexander Hospital (1986)
On July 1, 1986, the Castlemaine & District Community Hospital and 'Alexander' amalgamated to become Mt. Alexander Hospital. A major building program commenced in 1994 and all facilities and services were consolidated on the Cornish Street site on 22 December 1995 as Castlemaine Health.
Castlemaine Health (1995)
In 1995 the hospital service was renamed Castlemaine Health. Castlemaine Health ran an acute and subacute in-patient facility on the Cornish Street site, as well as a residential care facility. In 2000, the 'community services' arm of Castlemaine Health registered as an independent organisation called CHIRP Community Health. Twenty-one years later Castlemaine Health amalgamated with CHIRP Community Health. The community health service, which had been operating from Mostyn Street, relocated to Cornish Street.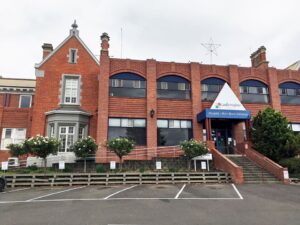 Dhelkaya Health (2022)
In 2022, Castlemaine Health amalgamated with Maldon Hospital. The organisation was renamed 'Dhelkaya Health' which means good/being healthy in the Dja Dja Wurrung language. The service now runs from Cornish Street in Castlemaine, from Chapel Street in Maldon and has an Information Hub c0-located with Castlemaine Community House in Templeton Street Castlemaine.
The Halford Street building is now occupied by Workspace Australia as a business incubator. The Old Nurses' Quarters, which were part of the hospital buildings, were demolished in 2023.