Autumn 2019
Welcome
From Rachel Fry, Adult Day Service & Volunteer Program
A belated happy new year to all of our group members and their families.  2019 is now well under way and I am sure everyone is appreciating the cooler weather which has finally arrived.
The hot start to the year meant we had to change or cancel a few of our groups.  It is important that on days of extreme weather, be it hot, extreme fire danger days, extreme storms, that our program may need to change at short notice.  We thank you all for your understanding in these circumstances.
We have also had a venue change with the Monday Men's and Ladies Alex groups moving from Harcourt Leisure Centre to the Auditorium here at Castlemaine Health. Both groups have settled well into the new space and it is working well.  Remember that if you are coming to a group on Monday and have appointments at Community Rehabilitation Centre ask if they can make it on a Monday when you are at the Auditorium.  For Podiatry we have a dedicated appointment at 1pm for Adult Day Service Clients.
As part of our quality standards all of our group members need to have an annual review with our staff.  This allows staff to make sure we have up to date information on your current situation so we can best support you.  It also provides time for staff to ensure that you are in the group that best meets your needs and review your care plan to ensure that together we are meeting your goals.
It is a good opportunity for you to think about the goals you'd like to achieve before your assessment. Or a chance to consider any specific activity that you'd like included in our program.
Local news
Castlemaine Pride 2019
At Castlemaine Health we aim to provide services that are inclusive of all.  We want to welcome people of all races, religions, countries or origin, sexual orientations, genders, ethnicities and all abilities to our services.  We respect and want to celebrate the diversity within our region. The Castlemaine Pride Picnic in the Park will be held on Sunday, 25 April in the Castlemaine Botanic Gardens. We'll be there and hope to see you too.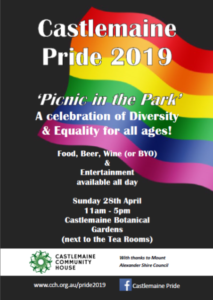 National Disability Insurance Scheme (NDIS)
From Rachel
Many of our Out and Out Club members have been through, or are currently going through, NDIS reviews. Many people find that Plan reviews can be a stressful time. I would like to remind everyone that Rights Information & Advocacy Centre (RIAC) currently hold advocacy funding and can support people through an NDIS appeal.  Interchange in Bendigo also have short term funding, until June 30th 2019 to support people through NDIS appeals.  If you have any concerns about this feel free to give me a call.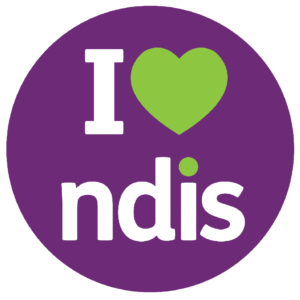 Club News
Monday Alex
From Fran and Judi
Monday Alex Club is ticking along smoothly – much like a treasured antique timepiece; as once again another newsletter comes to pass. We have enjoyed a myriad of diverse outings twice a month and a new home location in the Auditorium at Castlemaine Health. We have delighted in classic black 'n white movies, super-trooper shopping daytrips and lively word searches, this day in history and, in November last year, a trip to see the silo art in Rochester.  We are looking forward to the 2019 footy tipping season.
Friends on Friday
From Janene and Colin
We've had a few changes this year with the Friends on Friday group.  We have farewelled Margaret and Glenis but warmly welcome John, Marj, Shirley and Patricia. The hot start to the year meant we had to change the program a couple of times to accommodate the extreme weather conditions.  In January, Colin entertained everyone with a wonderful musical performance and on Glenis' last day we had a lovely outing and picnic in the Castlemaine Botanical Gardens.
Monday Indoor Bowls
From Janene
We continue to have a wonderful time together on Monday.  We are competitive but have a good laugh as well.  As you can see from the photograph, everyone pitches in to help.  The group has enjoyed having Steve Bell fill in for me when I am away.
Monday Respite (Secret Men's Group)
From Leanne, Steve D. and Colin
Our Monday Men's Club is going well.  We have been enjoying our days at our new venue – the Auditorium at Castlemaine Health.  Lee Mason, one of the hospital's dietitians, came up to talk to us about diabetes, cooking for one and cooking healthy meals.  She had some great ideas.  It was very interesting and helpful.  We also love our outing days and going for drives.  We are looking forward to joining in some of the Castlemaine State Festival events. Photos are from our outings to Creswick Woollen Mills and the Maze House, Newlyn last year.
Friday Explorers
From Leanne, Steve B. and Susan
The Friday Explorers group is always actively out and about.  Despite the hot weather we have had exciting outings to Mount Macedon, Altona Beach, Werribee Mansion and Riddles Creek to name a few.  Unfortunately our trip to Edgars Mission in Lancefield had to be postponed because of the weather, but we were able to substitute a visit to Leanne's house to meet her pet pig, Penny, instead. Everyone agreed it was a real treat! That was followed by a visit to the Daylesford gardens to check out the dahlias.
Wednesday Strength Training and Coffee Club
From Leanne
Wednesday exercises are going along well.  We enjoy functional movements to fun, uplifting music with the option of adding light weights to challenge our body's movements.  We all want to keep as independent as we can as we age.  This is a great opportunity to keep active and moving.  We also exercise our mouths afterwards with a coffee and chat at a local café. We have been trying out some different cafes lately because Pannini's Café is under renovations.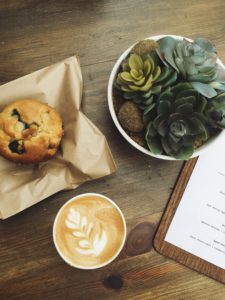 Out and Out Club
From Fran, Leanne, Steve D. and Susan
Out and Out Club is in good shape and fine form in 2019.  In January we had a day trip to Kyral Castle in Ballarat.  We enjoyed a twilight visit under the million lights of the night sky to view the incredible sand sculptures in Riddles Creek.  We gave honour to Penny the celebrity PIG in February of the Chinese New Year.  There is heaps of fun on guys and girls nights.  We have enjoyed pool and other activities in the Basement at Castlemaine Health on Guys nights and emblematic shopping trips.  We are looking forward to visiting the Castlemaine State Festival.  We also give a big welcome to new member Emma.
Active Tuesdays
From Judi and Leanne
As usual, Active Tuesdays has been very busy exploring places, stocking up our cupboards on shopping trips, being entertained by the Morning Melodies in Bendigo and Ballarat and enjoying delicious food.  In February we had an lovely night out at the Pizza and Wine Club in Kyneton.  We hope to plan a few more of these evenings out this year. In April, we are looking forward to being enchanted by the sand sculptures at Riddles Creek and getting up close to the animals on our trip to the Kyabram Fauna Park.  Photos from some of our outings last year – ice creams on the bus, Crown Casino lunch and a visit to Judi's garden during the Castlemaine & District Festival of Gardens.