Summer 2019
Welcome
From Rachel Fry, Adult Day Service & Volunteer Program
Spring has left many of us sneezing and Summer is just around the corner. I would like to remind you all that in days of high temperatures / fire danger we may change the time that program runs or cancel program. It is important that you remember in extreme heat to:
keep hydrated – water is best
stay somewhere cool – if you don't have cooling visit the movies, shopping centre
plan ahead – plan outings for the cooler parts of the day
check in with others
don't leave anyone in the car, including your pets.
I am excited to announce that in December we are trialing a new indoor bowling group called Kiss the Kitty. This group started following a letter we received requesting services for people identifying as Lesbian, Gay, Bisexual, Transsexual and Intersex. This group will run on Mondays from 12:45- 2:15 at Wesley Hill Market Hall. For December there is no cost just turn up for some fun, laughs and friendly competition.
I am happy to announce that our newsletter is now available on the Castlemaine Health website. The online version is an accessible version (you will notice that descriptions are added to pictures describing the content). The newsletters can be found at www.castlemainehealth.org.au.
With Christmas around the corner the ADS office will be closed from Monday 23rd Dec and reopen on Monday 6th Jan. Wishing you all a safe and Merry Christmas.
Local news
Charter of Aged Care Rights
From 1st July the Charter of Aged Care Rights was released. All of our group members funded through the Commonwealth Home Support Program should have received this during program. I have sent a copy out with this newsletter incase it has been misplaced. The Charter sets out your Aged Care rights.
There is a short video that has been made by OPAN (older persons advocacy network) which is available on the Castlemaine Health website.
Each newsletter we will talk about the rights and how it relates to our program. The rights are:
Safe and high quality care and services
To be treated with dignity and respect
Have my identity, culture and diversity valued and supported
My independence
To be listened to and understood.
When planning our group programs our staff must consider the rights listed. We must listen to our group members and get input into what they would like to do. We must take into account who you are, your culture and diversity, what you are able to do and what you enjoy doing. We must allow you to be as independent as you can be. This could mean group members ordering their own meals on outings, dishing up their own meals during club time. It is important that the programs are of high quality and safe.

Spring concert
Friday 17th October saw our first Spring Concert. The show was a huge success with our auditorium being packed out.
The day started with an Acknowledgement of Country from a Castlemaine Secondary College student, Al Coff. Acknowledgement of Country is an opportunity to acknowledge and show respect for the Traditional Owners and ongoing custodians of the land, the Aboriginal and Torres Strait Islander people. Here is Al's acknowledgement:
I would like to Acknowledge the Dja Dja Wurrung people who's land we are all upon, I would like to thank them for the care they have taken for Country, the rivers, oceans, mountains, trees and animals over countless generations. I would particularly like to acknowledge Uncle Rick Nelson and Aunty Julie McHale, my mum and all other Elders here today. I would like to also Acknowledge all other Indigenous people who work live and love this Country we are all on. I would like to Acknowledge Country and the pain that she holds. I would like to Acknowledge her resilience and her knowledge. I would like to Acknowledge my Ancestors and those of all First Nations people, especially those who are sharing with us today, they remind us every day as to who we are and what we need to do. I would like to Acknowledge the Elders who are here now holding strong to what is important. I would like to Acknowledge non Indigenous.
Our Monday Alex Club ladies had worked hard over many weeks and dazzled us with their performance of 'Dip-a-Dee-Doo-Dah' accompanied by our very own Colin Appleby on guitar. Their performance was inspired by their viewing of the movie Poms. The group designed and made the birds and pom poms on their costumes. They followed this up with the perfect spring song 'You are my Sunshine'.
Mount Alexander Shire social support staff had some fun dressing up and miming to Whip Crack Away from Calamity Jane. Frances Fealy from Penhall Hostel and Leisure and Wellbeing staff member Jason entertained everyone with some oldies but goodies on harmonica and violin. Angela, one of our piano entertainment volunteers, accompanied special guest Ros Chapman who sang some beautiful songs. The Ukeladies finished the program by leading everyone in a singalong.
The decorations for the day were made by our Friends on Friday group. Featuring a bright yellow and orange flower mural and paper flowers. A huge thank you to our group members for making the decorations. Our Friends on Friday and Friday Explorers groups joined us on the day to enjoy the concert and a planned activity group from Maryborough also came over to join in the fun. We are looking to make this an annual event.
Kiss the Kitty
Kiss the Kitty is our new LGBTI+ indoor carpet bowls event that is running throughout December – straight after our usual Monday Bowls group. This is a LGBTIQ+ community development project that is supported by Castlemaine Health. Come along for some friendly competition and make new friends. You don't pay anything at all – it's free and you don't need to register – just turn up: Monday 2nd, 9th & 16th December 2019 at Wesley Hill Market Hall – 12.45pm to 2.15pm.
Carers
Carers are an invaluable part of our community and provide support to partners, family members and friends. They may care for someone with a disability, mental illness, chronic illness, or an older person with care needs. The role of caring can be hugely rewarding but it can also be difficult. Carers sometimes find it hard to access services or look after themselves. We also find that many don't identify as Carers. The following information outlines some of the services/payments available to carers
Carer gateway
The Carer Gateway is a new resource for carers it provides information and advice, a free over the phone counselling service, free coaching to help you in your caring role and has a community forum that you can connect to.

Carers payment
The Carer's payment is an income support payment if you can't work because you care for some-one. You may be eligible if you provide constant care for someone and aren't away more than 25 hours per week. For aged carers when eligible a choice can be made between the carer payment and aged pension.
Carers allowance
The Carer's allowance is a supplement that is paid fortnightly. This allowance is now means tested (you and your partner's income needs to be under $250,000 per year) and to be eligible you must be providing daily care. There is more information in the link below. You will need to contact Centrelink on 132 717 to apply for this allowance.
We Care Card (Carer Card)
If you received Carers payment or allowance you would be eligible for the We Care card. When you don't receive these payments, you can get your GP to sign the form stating that you are the primary, unpaid Carer of a person with a disability, severe medication condition, mental illness, or person who is frail aged. Advantages are carer concession fares and free travel on the weekends on metropolitan public transport and regional bus services. From 1st July 2019 We Care card holders have the same benefits as a seniors card.
Companion Card
A Companion Card allows people to bring a companion with them at no cost, for example when travelling on public transport or going to the movies, theatre. Organisations who accept the companion card will ask the person with the disability to pay for their own ticket but will provide a free second ticket for the carer. To be eligible for the card you must have a significant permanent disability, demonstrate that due to the impact of the disability they would not be able to participate in all community activities without high level– attendant care support. Demonstrate that the level of care will be life long. There is a form that needs to be completed by the carer, health professionals/GP.
If you need any help to complete any of the forms or access the forms please contact the Adult Day Services office.
Club News
Monday Alex
From Fran and Judi
A staffing change in the group has seen Colin join Judi with our Monday Alex club. This has led to a bit of a shake up with the group as Fran had always been the Quiz master. This job has been handed over to the group and a huge thank you to Bev and the other members for putting their hand up to lead the quiz.
Winter saw the return of the footy tipping competition and we thank everyone for taking responsibility for their own tips. Congratulations to Bev Ipsen for coming out on top. A great joint effort to make the footy tipping successful.
Following the announcement of the Spring Concert, the group spent many hours preparing for their performance, which was fantastic! Thanks to all members for bringing along extra treats to share with everyone and working together to make a friendly and happy group.
Friends on Friday
From Janene, Colin and Fran
Our group has grown this year and we welcome our most recent new members Ray and Vicky. We enjoy our days in the Auditorium at Castlemaine Health and going up to the Quick Fix Café for our fish & chip lunch. At Harcourt Jeanette came to play her guitar and lead us in singing some old favourites. We also enjoy fun games of cards, board games and quizzes.
Monday Indoor Bowls
From Janene
We welcome volunteer Paul who joined the group in June. Sadly we farewelled Lenke when she moved to Melbourne in July. The group has embraced the new getting your own cup of tea on arrival routine which promotes independence and gives everyone a chance to catch up before the bowling begins.
Monday Respite (Secret Men's Group)
From Leanne
Welcome to new member Paul. As usual, the Monday men have had many interesting outings this year including trips to the Ballarat Aviation Museum, ten pin bowling at the Bendigo Bowling Centre, Inglewood Blue Eucy Miniature Railway, the Eucalyptus Distillery Museum and the Carisbrook Log Gaol.
We also enjoyed a lovely catchup with ex-member, Jeff, in Maldon in October. A big thank you to Ken, Ric and Paul who have been wonderful volunteers on our outings.
Your rights in action
Monday men's group had a group member enter residential care in Maldon. This happened quickly and the group wasn't able to say goodbye. Our staff member Leanne listened to the group and realised that saying goodbye and catching up was important to the group. Leanne then organised an outing to Maldon and the group had a great catch up.
Friday Explorers
From Leanne, Steve B. and Susan
We have had another active and fun year exploring local sites and even some places a bit further away such as our boat ride on the Murray River and trip by train down to Melbourne's Immigration Museum. Some other highlights were visiting the Wedderburn Coach House Gallery and Museum, getting up close to the llamas on Mt. Macedon and reading some ghost stories at the Coach & Horse Inn at Clarkefield.
Wednesday Strength Training and Coffee Club
From Leanne
Our group varies in size each week but we always have fun while exercising and being active. Those who can't join us at exercise often come along to our coffee catch up afterwards at a local cafe.
Out and Out Club
From Fran, Leanne, Steve D. and Susan
Another fun, active and busy year for our Out & Out club members. Some of our outing nights included visiting the new Gurri Wanyarra Wellbeing Centre in Kangaroo Flat, ten pin bowling at the Bendigo Bowling Centre and movie nights in Bendigo. We also had many birthday dinners out and about.
Able Radio is a new weekly program on Maine FM that explores topics related to disability, music, film, living in regional Victoria, art, and other topics. Many of our group members have been involved in the Able radio. We have heard Tegwen and Joe on the show and Ned put together the first playlist. We are very proud of our group members and excited about Able radio. If you haven't heard tune in to Maine FM 94.9 Monday mornings from 10am to 11am.
Club newsletter
We have been talking about having an Out and Out specific newsletter. We are hoping that our group members would be interested in being involved. If you are interested in helping please talk with Out and Out staff.
Holidays
Some members recently enjoyed a Melbourne 3-day holiday where we explored the city's attractions including the National Gallery, MCG and Melbourne Aquarium. Attending Charlie & the Chocolate Factory musical was a standout. An evaluation form has been sent out for the holiday. If you can please send these back ASAP as we are waiting to collate feedback from the holiday. If you need a new form please contact the ADS office 54713566.
We look forward, as always, to our traditional Christmas breakup party at Susan and David's enchanted Christmas home followed by a drive to look at the local Christmas lights.
National Disability Insurance Scheme (NDIS)
From Rachel
Many of our Out and Out club members have been through ,or are currently going through, NDIS reviews. Many people find that Plan reviews can be a stressful time. I would like to remind everyone that Rights Information & Advocacy Centre (RIAC) currently hold advocacy funding and can support people through an NDIS appeal. Interchange in Bendigo also have short term funding, to support people through NDIS appeals. If you have any concerns about this feel free to give me a call.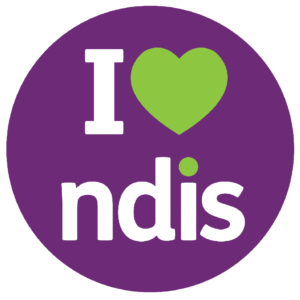 Active Tuesdays
From Judi and Leanne
Our Active Tuesdays program continues to be very popular with most outings overbooked. We appreciate your understanding when we can't always take you when this happens. Some of our trips this year have included getting up close to the animals at the Kyabram Wildlife Park, visiting the Carisbrook Log Gaol, morning tea and a chocolate tour at Indulge, Bendigo, an evening meal at the New China Restaurant in Castlemaine and a BBQ at the Botanic Gardens in Castlemaine where we had a fun game of quoits. We also had an enjoyable trip and overnight stay to Geelong in September.