Reconciliation Week 2020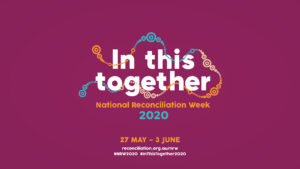 Melinda Harper interviews Aunty Julie McHale and Jacinta Douglas for National Reconciliation Week 2020
In this series of interviews, Castlemaine Health's Aboriginal Liaison Officer speaks to Aunty Julie McHale and Jacinta Douglas for National Reconciliation Week 2020. Both women are local residents in our shire and they've taken time out to talk about their lives and to reflect on what this year's theme of 'In This Together' means for them right now.
Aunty Julie McHale
Aunty Julie McHale, a Palawa woman (Tasmanian Aboriginal) from the Trawlwoolway People born in Castlemaine and has lived her whole life (63 years) on Jaara Jaara Country. Aunty Julie was a primary school teacher for 40 years and  has worked in the Castlemaine community for over 30 years as an educator, teacher and learner. Her teaching work has extended to an enormous range of roles, from primary schools, kindergartens, secondary schools, TAFE, prisons, LaTrobe University (Aboriginal Support Unit), running professional development activities for teachers in a range of schools and at Castlemaine Health, and running Bush Tucker courses at Castlemaine Community House. She is the co-ordinator and leading teacher at The Meeting Place which is held fortnightly.  She has a passion for Bush Foods and Plants, and this has extended to growing. Her garden is looking amazing.
I included learner because you are a great reader and you are constantly engaging in learning and researching. Your perspective is not one of the "expert" which I find interesting.  Do you see yourself as a learner and why is that important?
I know the term "life-long" learner is bandied around but I do believe this is true. I love learning through reading because reading gives you time to analyse what you have read and relating these understandings to your experience in life. I love learning also, from other people especially older people in our community. I can be quite obsessive and often spend ages on the internet, reading books and speaking to other people about a particular current interest. Since "retiring" from teaching I have become particularly interested in indigenous and native plants especially with regards to food and medicinal plants. What a lot to learn!!! I don't believe I am an "expert" because I still have lots to learn about plants and other areas of interest. I don't believe anyone can truly be an expert, they can have lots of knowledge but there is always something else to learn. I like the true definition of the scientific process where a hypothesis  can be tested and supported but never proven, just supported.
What is the best thing about living in this Country (Jaara Jaara Country), what is your favorite place?
Although my Aboriginal heritage is Tasmanian and I have visited my Mob's area and spent time with my Elders I see Central Victoria as my home, the place I belong. This area is special because there are still many places which are unspoiled and give you an insight into nature. I have always been an outdoor person and had the luxury of have a bush block near where I grew up. I remember rambling through the bush and sitting and looking and listening since I was very small. Mum tells me I was the worry of her life because even as a toddler I was always wandering off or hiding in the bushes and she couldn't find me. She tells a story of when I was about 2 years old my grandfather (I grew up living with my grandparents) built a high gate to block off the porch at the back of the house to stop me from wandering, and he came out one morning and I had climbed to the top of the gate. He asked me what I was doing and I told him I was fixing the gate so "Julie couldn't get out".
My grandfather ran the "Koala Park" on Lianganook ( Mt Alexander) as a volunteer and we spent a lot of time up there. I love this mountain. I have spent hours and hours up there. I love the granite and the bracken, the wallabies and the koalas (who are no longer there), the orchids and the daisies, the Manna gums and the wattles, the views and secret places, the smells and the tastes (especially the new bracken fronds) and the feeling of being protected and nurtured when I'm there. It has taught me much, punished me, made me laugh and made me cry. On the Mount there is a special outcrop of granite with a flat surface where I love to sit. This would be my favorite place in the World. I never take anyone else there because I want it to be MY special place. When I go there I consciously separate each of my senses. I try to block out the other senses and focus on each for a period of time. It's like I'm meditating or something. I let thoughts come and go.
Aunty Julie you were working on a fantastic writing project for Reconciliation Week with some members of Nalderun, unfortunately this was postponed due to COVID- 19. The theme for Reconciliation Week for 2020 is In This Together, what does this mean to you Aunty Julie? And do you think we can hope to see the writing project in 2021?
Wow, In This Together has become a theme for the World at the moment, it is almost like a portent. In terms of Covid 19, I have been conscious of the fear and sorrow around this pandemic and relate this to the fear and sorrow of the DjaDJaWurrung people when smallpox came to this area through trade routes, long before the arrival of the other people. Two thirds of the population were wiped out and these people had no knowledge of what was happening. How horrifying this must have been.
In terms of the Reconciliation Week theme it, to me, means that Reconciliation is something we have to work together (Aboriginal and other Australians) to acknowledge the past, the good and the bad, and use this to decide how we can truly make Australia a country where all peoples are treated respectfully. I know this is unlikely to happen but I believe we can become better. I want to see the gap closed, not by some random percentage but 100%. Once again, maybe not realistic but better to be the aim rather than 85% or even 95%. For this to happen both black and white needs to look closely at their attitudes to each other.
Yes, it was very sad that the Writing For Reconciliation Project wasn't able to continue. I still plan to visit each of the schools I already worked with and talk to the children about what they did. I have purchased lots of little rewards for children and our little working group will decide whether to give these out this year or keep them until next year. I certainly hope we can do the writing project next year. The children I spoke to at the schools were very motivated and some have done writings already. There was also a fantastic response from adults so I believe that can be encouraged to do the Project next year. The Judges we had approached were also very much on board and excited about the Project, I'm sure they'll still be enthusiastic about next year. I'm not sure whether the Them will carry over to next year or whether the Council For Reconciliation will come up with a new Them. I think that we will still accept writings done this year even if there is new theme.
And I have to ask what have you been reading in this lock down period?
I love crime fiction to read for pleasure. I usually read for about 2 hours before I go to sleep. I particularly enjoy Australian crime and historical crime fiction. I have just finished reading "The Dry" by Jane Harper which you leant me and thoroughly enjoyed it. I am currently reading "The Corset" by Laura Purcell which is challenging but written in way I am intrigued with. I have also read several from the Phryne Fisher mystery series and I love the ones set locally. I must say I have also read several of the James Herriot books as I love the descriptions of the Yorkshire Dales and the characters the vet meets in his travels. I enjoyed The Iscariot Sanction by Mark Latham and Newes From The Dead by Mary Hooper which is written in a similar way to The Corset in that the plot moves between two or more characters written in the first person. The Newes From The Dead is supposed to be based on a true story of Anne Green but don't try to tell my mother that, she says she's never heard "such nonsense" in her life.
I am also researching the plants I want us to plant in the area to educate people about their uses. I have been looking closely at the Bunya as the pines at Harcourt have had a bumper crop this year. I have been reading The Great Bunya Gathering by Dr. Ray Kerkhove which contains a number of quotes from Aboriginal people about the Bunya. I am also fascinated by the Fibernacci aspect of the cones and many of the plants I work with. I have also been reading The Case of Eldrimmer prepared by Darg Hartman from Ostersund who you and I met as part of the UNESCO Creative Cities project.
For these reasons I have enjoyed the lock down period.
What are you most passionate about at the moment project you are working on, or hope to work on?
I love working with Murnong Mummas and am excited about the potential of the Grant we have applied for to grow Bush Tucker at Harcourt. Although time consuming (and mind consuming) preparing the Grant application has re-inspired me. I love the idea of helping our young people start microbusinesses in this area and am looking forward to preparing produce for sale at the Farmers' Markets and other places. I am enjoying experimenting with the foods I have harvested from my plants mixing curries, rubs and dukkha. On the fine days I am in my garden, tidying up, weeding, potting and repotting, preparing cuttings and germinating seeds. I love being outside but am not keen on freezing cold mornings.  I simply don't understand it when people say they are bored, I don't have time to be bored!!!
Jacinta Douglas
Jacinta Douglas is a young Dja Dja Wurrung woman living in Castlemaine. Last year Jacinta completed VCE with the ambition of getting into the University of Melbourne to study Criminology and Psychology. And congratulations Jacinta you did it! With Reconciliation Week coming up and events being cancelled, I thought we could share what we are doing in different ways.
So I am interested Jacinta, why Criminology/Psychology? 
During VCE I studied psychology and fell in love with the field, discovering that it aligned with my passion for understanding and being able to help people. I decided to combine this with my interest in understanding crime, which more specifically has recently been geared towards the inequitable experiences of Aboriginal and Torres Strait Islander people within the current criminal justice system. I am a firm believer of needing to become knowledgeable in a given field in order to critically engage with it and seek change in it.
What are you most interested in as a career path with this area of study?
At this stage I'm not sure what exactly career I will have, but I intend to work in a field in which I can continue to learn about people from varying walks of life every day. Currently I think that criminal profiling or working in rehabilitation for young offenders is where I want to work, although eventually I would like to be involved in policy change that would decolonize the way in which Aboriginal and Torres Strait Islander people are treated within the judiciary system.
You were involved in the last two years in Nyarn-gakgo Mankie, a First Nations young women's network that is a program of Weenthunga Health Network.  Can you tell me a little about that and was that helpful? 
The Weenthunga Health Network programs were an incredible opportunity for me to get to know other like-minded Aboriginal women my age, which really provided me with a community of people I felt welcome in and supported by through my final years of high school and entering into higher education. Their health days gave me an opportunity to listen to amazing guest speakers that were successful Aboriginal women who had entered health-related careers, and although my interests are no longer particularly within the health field, it was incredible to hear of people like me being able to achieve their dreams through hard work and inspired me to do the same.
I suppose an obvious question is how is the COVID-19 virus affecting your study and how do you think we as a country will change from this? 
All of my university classes have moved online for the semester, which although I can cope with, has taken away the opportunity for me to experience interacting with a new community of people on campus like I have for so long dreamed of doing. Nowadays I often see in the media peoples' hopes for things to eventually "go back to how they were" as soon as possible, but in my opinion it is much more crucial for every individual to take responsibility for the health of our population and correctly social distance/isolate for as long as possible than to risk the lives of others for selfish purposes. In the future, I hope that not only the government but the general public will have a newfound respect for our essential workers, from those in healthcare to supermarket or cleaning services, who before the COVID-19 crisis were often considered lesser in society and yet did incredible things daily before the pandemic and media attention, and will continue to do incredible things to keep society functioning when these circumstances fade away.
This year's theme for Reconciliation is In this Together, which seems very relevant at the moment, what does this mean to you? 
"In this Together" for me holds many layers as a phrase. I think that it not only shows the connection that Aboriginal and Torres Strait Islander people have with each other and the land in which we live on, it highlights the importance of the need for all Australians, despite any cultural or political differences, to support and respect each other in such turbulent times. This theme for Reconciliation fits perfectly with my hopes for a time when the world will genuinely be a better place in which people can respect each other and help each other as a community should, after all we are all living in the same beautiful country.